VICTORIA – New Democrat Leader John Horgan is demanding to know why information about a crack in the Mount Polley tailings pond dam was not released for more than four years.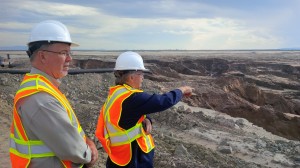 "The Liberal government knew for four years there were problems with this tailings pond, but they deliberately suppressed the information," said Horgan. "Four years later, the tailings pond dam failed, and 25 million cubic metres of effluent spilled into the watershed.
"The public deserves to know why this information was neither acted on nor disclosed. And given that Minister Bill Bennett promised to resign if it was found his ministry had information about this tailings pond, I think the question has to be asked: is the minister being protected by withholding this information?"
The report of a 10- to 15-metre long tension crack on the earthen dam, was noted in an inspection report collecting dust on a shelf in a library in Williams Lake. Horgan said the revelations fly in the face of claims made by Environment Minister Mary Polak that the government had made public all the information available about the mine.
"This is a significant piece of information that the government had left out of their disclosures," said Horgan. "It says that the company and – assuming someone in the government actually reads these things – the ministry knew that there were potential for disaster at Mount Polley.
"The public needs to know what else has been hidden about this disaster. And they also need to know whether there are problems at other earthen dams that the government has either covered up or chosen to ignore."
The opposition New Democrats asked for all information about Mount Polley six weeks ago, and have filed Freedom of Information requests for the mines inspection reports. The Liberal government has been fighting the release of those documents.
"The secrecy of the B.C. Liberal government is only damaging the trust British Columbians have that the ministry is looking after our wilderness," said New Democrat spokesperson for mining Norm Macdonald. "This is bad for the environment and bad for our mining industry."