Kathy Corrigan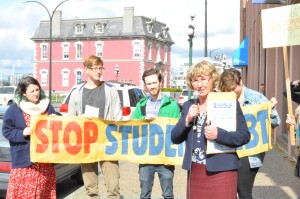 , New Democrat spokesperson for advanced education, met with a delegation of University of Victoria students in front of an ICBC office in Victoria today, March 24.
The students were there to promote a 3,000-signature petition calling for the return of the student grant program scrapped by the B.C. Liberals in 2004.
"Post-secondary education is becoming increasingly unaffordable for middle- and lower-income students and their families in B.C.," Corrigan said.
"It is time B.C. caught up with every other province in the country – it is time to re-establish a student grants program and make post-secondary education accessible to all British Columbians. Not only are Christy Clark's Liberals making students pay more, now they're threatening to take away driver's licences from the students who are struggling with debt the most. This is completely wrong, and I'm proud to bring this petition to the premier on behalf of B.C.'s students."