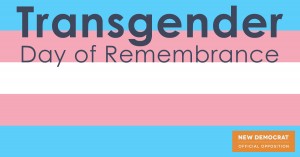 VANCOUVER— Spencer Chandra Herbert, New Democrat MLA for Vancouver-West End, released the following statement recognizing International Transgender Day of Remembrance:
"Today on International Transgender Day of Remembrance, we remember those who have had their lives taken as a result of transphobia.
"We reflect on the lives of those lost to hatred, and are spurred on to action to help end the pain. We know there are far too many transgender and gender variant people in our society who are facing discrimination and violence just because of who they are. We know it doesn't have to be that way and that together we can end the violence if we act.
"Saskatchewan, Manitoba, Ontario, Nova Scotia, Newfoundland and Labrador, Prince Edward Island and the Northwest Territories have all explicitly protected transgender people from discrimination in their Human Rights Code. Just this week, Alberta introduced legislation too.
"British Columbia has not, and that wrong must be made right. Working as allies with transgender British Columbians, New Democrats put forward proposed legislation earlier this year that the government could adopt today.
"As we remember, we also dream of a better world, where everyone is loved, and embraced in all of their diversities. It's a world that can exist if we make it so."