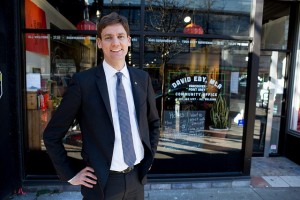 MAPLE RIDGE – Close to 100 British Columbians have been living in a makeshift tent city in Maple Ridge for almost two months, creating dangerous and unhealthy conditions for themselves and local residents, and threatening the future of a small business.
"There is simply no excuse for two months of inaction while the community of Maple Ridge faces an acute crisis," said David Eby, New Democrat spokesperson for housing. "Vulnerable people attract predators. Sanitation and running water is limited here, and confrontation with angry residents is inevitable. Many of these tent city residents have complex health and addiction problems. Lives are at risk and the minister and local MLAs are completely absent."
Eby says the tent city has lingered because the minister responsible for housing seems to think he has solved homelessness in British Columbia. On May 5 in the legislature, Minister Rich Coleman described B.C.'s housing strategy as "the most successful housing strategy in North American history." On May 13th, Coleman said that for a person who wanted to come off the streets and into housing, government funded outreach workers "could actually, in most cases, take care of that the same day."
"It's one thing to make up stories in the legislature," said Eby. "But it's another to try to sell that same tale out here in the real world. I invite the housing minister to come and tell the hundred plus people living in this tent city in Maple Ridge and their neighbours that he can house homeless citizens on the same day they ask for services. Not one person will believe him."
In addition to the tent city, the Maple Ridge Salvation Army shelter next door is full and is turning people away despite expanding their capacity with mats on the floor.
Neither of Maple Ridge's two B.C. Liberal MLAs, Marc Dalton and Doug Bing, have visited the tent city site.