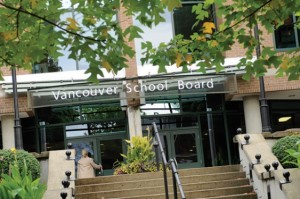 VICTORIA— A report by a B.C. Liberal appointed special advisor recommends closing and selling off 19 schools in Vancouver, but parents who want a quality education for their kids would disagree, says Rob Fleming, New Democrat education spokesperson.
"This is just another example of the B.C. Liberals' warped budget priorities," said Fleming. "First they give a $230 million tax break to the top two per cent instead of giving B.C. families the break they deserve, then they force school districts to cut $54 million from their budgets, now they are recommending school closures to cover for inadequate funding."
Fleming said with the passage of Bill 11, Premier Clark's education minister aggressively moved to centralize control over our schools. Now Minister Fassbender is imposing his will upon the elected Vancouver school board and telling them how to do their job.
"This government has downloaded tens of millions of dollars of unfunded cost pressures onto school districts for everything from B.C. Hydro rate hikes, to medical premium increases, to failing to fully fund the settlement costs for B.C. teachers," said Fleming. "In this case, the Christy Clark government is ignoring its own B.C. Stats data which projects future student enrolment growth. By closing these schools, they would be harming the education needs of our kids and causing turmoil for families.
"School boards are elected in their communities as the responsible authority for school administration," said Fleming. "The B.C. Liberals are undermining school board authority just to satisfy their obsession with selling off community assets."