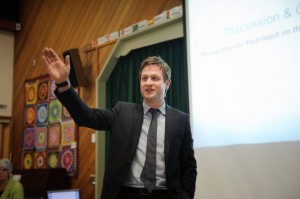 VICTORIA – The B.C. Liberals' failure to consult trustees, teachers or the public before introducing a sweeping and controversial education bill will harm the quality of education for our kids, says Rob Fleming, New Democrat spokesperson for education.
"After dragging 550,000 kids and their parents through the chaos of the longest school disruption in B.C. history, the premier promised her government would let the school system heal," Fleming said. "But now with Bill 11, she's back to her same old confrontational ways with teachers, parents and school trustees. Our kids are the ones who will pay the price."
"This legislation is the vehicle Minister Fassbender can use to ram through $54 million in new education cuts that are in his budget. It gives the minister unlimited power to fire any school board he deems to be in his way," said Fleming.
Fleming said that while the minister of education talks about "collaboration" with the teaching profession, he didn't even have the decency to consult or even notify teachers about Bill 11 in advance.
"Bill 11 is a power grab by the minister that threatens the ability of school boards to make day-to-day local decisions necessary to advance the learning interests of our kids," said Fleming. "It is ill-conceived legislation drafted without consulting any key education stakeholders. In the law-making process, you don't impose first and then consult later."