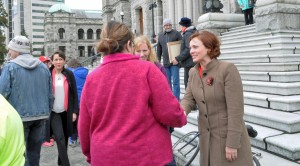 COQUITLAM – New Democrat social development spokesperson Michelle Mungall will visit Surrey, Coquitlam and Maple Ridge bus stops on Thursday to join people with disabilities in the fight against Christy Clark's bus pass clawback.
"Christy Clark's government just isn't listening. People across this province are speaking out against this clawback, but the B.C. Liberals continue to say that people with disabilities have it wrong," said Mungall. "What the B.C. Liberals call a communications problem, people with disabilities and their families are calling a mean policy problem."
In its latest budget, the Christy Clark government increased disability assistance for the first time in nine years, then clawed back nearly all of that meagre bump by taking away affordable transit passes.
"Christy Clark is leaving people with disabilities behind. Literally. When people with disabilities and advocates came to the legislature to speak with Christy Clark's government, not a single minister came out to meet with them. They deserve better. That's why we will not stop fighting until this clawback is ended."