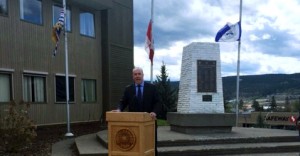 VICTORIA— New Democrat MLA, Shane Simpson, introduced legislation today to proclaim a provincial Day of Mourning for workers who have died or been seriously injured because of their work.
"April 28 is the internationally-recognized Day of Mourning," said Simpson. "This legislation would see flags lowered on public buildings across this province in recognition of workers who have died.
"In many jurisdictions they lower their flags on April 28, and we even do it at the legislature," said Simpson. "What's disappointing is that the Christy Clark government refuses to commit to formalize this recognition in B.C. by passing this bill."
Each week in B.C., roughly four workers lose their lives and over 100 sustain permanent injuries from accidents and disease suffered on the job and that are often preventable.
"Many of us have colleagues, friends and loved ones whose lives were cut short or forever marked by workplace accidents or disease," said New Democrats leader, John Horgan. "It is my sincere wish to say: I wish none of us had to suffer these tragedies."
"The Day of Mourning is a time to remember the dead, but it's also a call to protect the living," said Horgan. "New Democrats are honouring the Day of Mourning by reaffirming our commitment to prevent future workplace fatalities, life-altering injuries and occupational disease."
Here is a link to the Workers Day of Mourning Act – 2016