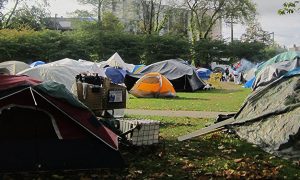 VANCOUVER— Melanie Mark, B.C. New Democrat MLA for Vancouver-Mount Pleasant, released the following statement on recent developments at Vancouver's tent city:
"I've recently learned that the tent city in my community, on 58 West Hastings Street, will soon be dismantled.
"Tent cities are not the solution to our housing crisis, but Christy Clark's government doesn't seem to get it. Tent cities, whether they're in Vancouver, Maple Ridge, Abbotsford or Victoria, show us how desperate the situation for affordable housing has become under this government. How many tent cities do municipalities have to dismantle before the Christy Clark government makes a real plan for affordable housing? Temporary shelters are not homes, and they cost this province much more in the long term.
"I'll continue to hold the Christy Clark government accountable to get the housing options that we need."